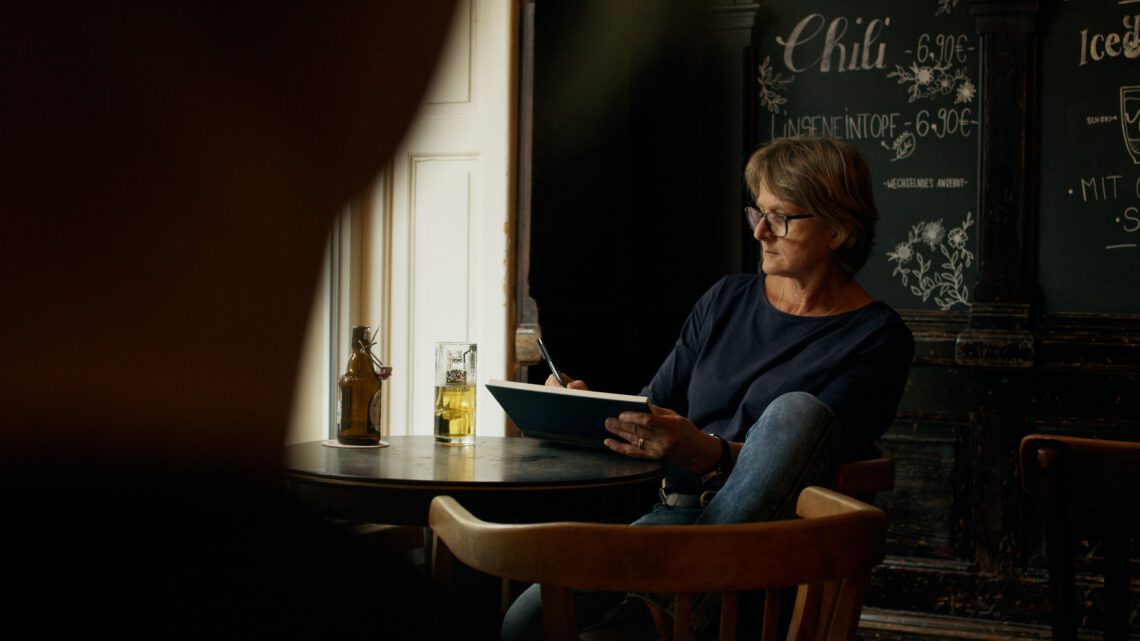 "In all things of nature there is something of the marvelous." Aristoteles
Kerstin Grobler [KUGA] is a contemporary artist based in Germany – intermittently in Switzerland.
She grew up at the edge of the Alpes in Bavaria/Germany. Although dedicated to art from her early years Grobler first studied natural sciences with a PhD degree. After long-term residences in the USA, Switzerland and the Netherlands she moved to Duesseldorf/Germany.
Finally she followed her inner call and graduated at the Free Academy of Fine Arts in Duesseldorf. Regularly she participates in art classes of Prof. Markus Lüpertz to have an intensive discourse about her works.
Her artworks have been exhibited nationally as well as in several European countries at galleries, museums and International Art Fairs. Quite a few catalogues have been published.
Grobler's preferred sujet is nature in all of its facets. The inspiration for her paintings arise directly in front of her eyes during her study trips through Europe. Let it be the mediterranean or atlantic zones, the hot Provence, the Alpes or the barren landscapes of Scandinavia.
"I usually start my projects outdoors painting plein air on paper followed by studio work series on canvas," states Kerstin Grobler. "The basic idea is the artistic interpretation of nature by reducing realism to its main essence: colour fields, structures and/or concise lines."  
Grobler prefers an expressionistic style,  painting with colour pigments on primed and un-primed canvas.
Dr. Wiebke Arnholz about Grobler's works: "The paintings are abstract, but not without a reference to an object. They are expressive and calculated at the same time."
Die sinnliche Wahrnehmung meiner Begegnungen mit Mensch und Natur – das Großartige, das Erstaunliche, das mir entgegen tritt – ist Inspiration für meine künstlerische Arbeit. Ich lasse mich von der Vielfalt der geistigen Ausdrucksweise begeistern und herausfordern. Kerstin Grobler [KUGA]

Vita
Aufgewachsen im Oberallgäu. Naturwissenschaftliches Studium mit Diplom, Berufstätigkeit in der Pharma-Branche. Langjährige Auslandsaufenthalte in den USA, der Schweiz und den Niederlanden. Als freischaffende Künstlerin seit 2007 in Düsseldorf tätig – zeitweise in der Schweiz. Geförderte Künstlerin der Stadt Düsseldorf.
Künstlerische Ausbildung 
Jens Kilian (Freie Akademie für Malerei, Düsseldorf),
Prof. Markus Lüpertz (Akademie für bildende Kunst, Kolbermoor, Sommerakademie), Prof. Qi-Yang, Michiel Hertroys/NL, Axel C. Gross, Hetty Krist u.a.
Ausstellungen
in Deutschland und im Europäischen Ausland in Galerien, Internationalen Kunstmessen sowie in einigen Museen.
Malreisen
Ahrenshoop, Provence, Sizilien, Lombardei, Mallorca, Bretagne.
Technik und Stil
vorzugsweise Farb-Pigmente auf grundierten und ungrundierten Leinwänden; abstrakter Expressionismus.
Die Kunsthistorikerin Dr. Wiebke Arnholz über Groblers Arbeiten: Die Gemälde sind abstrakt, aber nicht gegenstandslos. Sie sind informel, aber nicht formlos. Sie sind expressiv und kalkuliert zugleich.